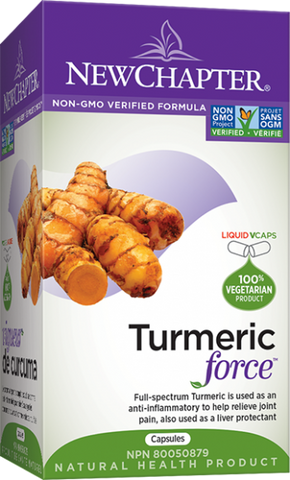 Turmeric Force™ - 120caps - NewChapter
Full-Spectrum Turmeric is used as an anti-inflammatory to help relieve joint pain, also used as a liver protectant
Available in 30, 60 and 120 capsule sizes
Non-GMO Verified Formula
100% Vegetarian Product
Gluten free
Anti-inflammatory to help relieve joint pain
Known as the "King of Herbs" in Ayurvedic medicine, Turmeric has been used and revered in traditional herbal systems for thousands of years. At New Chapter®, we truly believe that Turmeric is one of the world's most important herbs.
Joint Pain—A Common Issue
Have you ever experienced joint pain? Many people have inflammation in their joints, such as their elbows or knees. Joint inflammation is actually part of the natural healing process of the body, but it does tend to manifest as pain and discomfort. What's more, if joint inflammation lasts for several weeks or longer, daily activities and overall mobility may become limited.
The Force of Medicinal Turmeric
Fortunately, the Wisdom of Nature provides effective botanicals that can help provide joint comfort. Turmeric, in particular, is used as an anti-inflammatory to help relieve joint pain. Turmeric Force from New Chapter delivers two types of Turmeric extract to provide you with the rhizome's valuable phytonutrients. Turmeric Force is also used as a liver protectant.
2016 Alive Magazine Consumer Choice BRONZE Award, Herbal Products Categor
2016 Alive Magazine Retailer's Choice BRONZE Award
Dosage: 
Adults—Take 1 capsule 1-2 times per day.
Do not use if seal is broken or shows signs of tampering. Store at room temperature out of direct light. Keep out of reach of children.
| Amount per serving | | |
| --- | --- | --- |
| Turmeric (Curcuma longa) (rhizome) hydroethanolic extract 7:1 QCE 2240 mg | 320 | mg |
| Organic Turmeric (Curcuma longa) (rhizome) supercritical extract 21.5:1 QCE 1720 mg | 80 | mg |
QCE = Quantity Crude Equivalent
Non-medicinal ingredients: Extra-virgin olive oil, maltodextrin, hypromellose (capsule) and organic yellow beeswax.
Naturally gluten free.
Cautions and warnings: Consult a healthcare practitioner prior to use if you are pregnant, if you have gallstones or a bile duct obstruction, or if you have stomach ulcers or excess stomach acid.
---
We Also Recommend