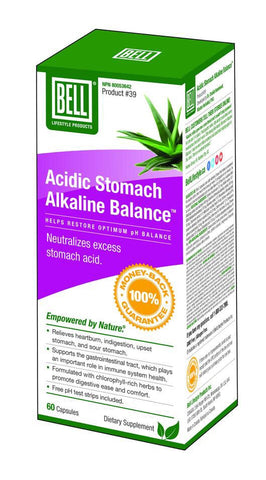 Acidic Stomach Alkaline Balance - 60vcaps - Bell
BELL Acidic Stomach Alkaline Balance for Healthy pH Balance 60vcaps
Formulated to help promote a pH neutral, alkaline body.*
Ideal for individuals suffering from heartburn, indigestion, upset stomach, sour stomach associated with excess stomach acid.* 
Helps neutralize excess stomach acid.*
Rosemary is traditionally used in herbal medicine to help relieve flatulent dyspepsia (carminative).*
Stimulant laxative.*
Helps to optimize digestive ease and comfort.*
Packed with chlorophyll-rich "super greens".
Features beneficial botanically-sourced flavonoids to support a healthy pH balance.
GMO free and allergen free. 
Are you concerned that your diet may be too acidic? It probably is! Health experts suggest that an optimal diet should consist of more alkaline foods and less acidic ones, yet many staples of Western cuisine -- like dairy, fish, meat, poultry and salt -- fall into the latter category. Since our blood is naturally more alkaline, acidic foods are believed to create an imbalance that hinders the body's ability to maintain peak wellness.*


Bell Lifestyle Acidic Stomach Alkaline Balance helps to restore your natural pH neutral, alkaline body state. Acidic Stomach Alkaline Balance features vitality-supporting "super-greens" and life-enhancing phytonutrients that promote and maintain ideal acid-alkaline stability. It includes an additional selection of natural ingredients, including the sulfur-rich compound MSM (methylsulfonylmethane), nutrient-filled spirulina and stomach-soothing aloe vera leaf extract. These combine with our super-green botanical wonders to uphold healthy digestion, pH balance, and overall wellness.*
Ingredients: Sodium bicarbonate 212 mg, Alfalfa extract 10:1 (Medicago sativa) (leaf, stem) 100 mg, Spirulina (Athrospira platensis) (whole) 100 mg, MSM (Methylsulfonylmethane) 100 mg, Rosemary extract 10:1 (Rosmarinus officinalis) (leaf) 80 mg, Chamomile extract 10:1 (Matricaria recutita) (herb) 50 mg, Barberry extract (Berberis vulgaris) (root) (97% berberine) 41.2 mg, Cilantro extract 15:1 (Coriandrum sativum) (whole) 30 mg, Aloe vera extract (Aloe vera) 4:1 (leaf latex) 25 mg, Barley grass extract 10:1 (Hordeum vulgare) (leaf) 25 mg, Turkey rhubarb extract 10:1 (Rheum officinale) (root) 17.5 mg, Cassia extract 10:1 (Cinnamomum aromaticum) (bark) 12.5 mg,  Di-Sodium phosphate anhydrous 10 mg, Potassium carbonate anhydrous 10 mg, Potassium sulfate 10 mg.

Alfalfa extract: A flowering plant classified as a legume, alfalfa has been incorporated for centuries into Asian culture, including Ayurvedic and Chinese wellness traditions that encourage overall health. Alfalfa is high in various antioxidants, minerals and vitamins, notably vitamin D, as well as chlorophyll and protein.*

Barley grass: Like wheatgrass, barley grass is the young, green version of its namesake grain. Containing even more nutrients than wheatgrass, barley grass is loaded with antioxidants, amino acids and chlorophyll. Since barley grass is associated with an alkaline effect on the body, it can help counter acidic foods and optimize pH balance.*

Chamomile extract: A member of the aster (daisy) family, chamomile has been revered for centuries in maintaining wellness, particularly in Europe and North America. Research suggests that chamomile, which contains beneficial flavonoids, has an overall calming effect that extends to easing both anxiety and indigestion.*
---
We Also Recommend