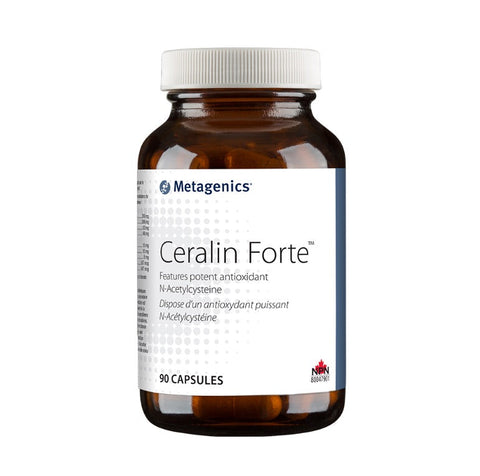 Ceralin Forte - 90caps - Metagenics
Metagenics Ceralin Forte
Non-Medicinal Ingredients: Hypromellose, cellulose, silicon dioxide, magnesium stearate (veg).
Recommended Dose: Adults take 3 capsules daily or as directed by your healthcare practitioner. Take with meals providing protein.
Recommended Use: N-Acetylcysteine is a potent antioxidant for the maintenance of good health in individuals under oxidative stress.
Caution: Do not use if you are pregnant or breastfeeding, are taking antibiotics, or nitroglycerin, or if you have primary systemic L-carnitine deficiency or secondary L-carnitine deficiency (inborn errors of metabolism) for which supplementation is prescribed/monitored by a healthcare practitioner. Consult a healthcare practitioner prior to use if you have cystinuria, kidney stones, or if symptoms persist or worsen. Mild gastrointestinal symptoms (transient nausea, vomiting, abdominal cramps, and diarrhea) have been reported. Low incidences of seizure have been reported with oral doses in individuals with or without pre-existing seizure disorders. Feelings of sleeplessness or overstimulation may occur; discontinue use if feeling persist or worsen. Consult a healthcare practitioner for use beyond 6 months. Do not use if perma seal is missing.
This product is non-GMO and gluten-free
Ingredient
Amount
N-Acetylcysteine
200 mg
Acetyl L-carnitine HCl
200 mg
Niacinamide
83 mg
Grape (Vitis vinifera) seed extract standardized to 90% proanthocyanidins
68 mg
Thiamin (thiamin mononitrate)
10 mg
Riboflavin
10 mg
Vitamin B6 (pyridoxine HCl)
8 mg
Vitamin B12 (methylcobalamin)
167 mcg
Folate (calcium L-5-methyltetrahydrofolate)
167 mcg
---
We Also Recommend