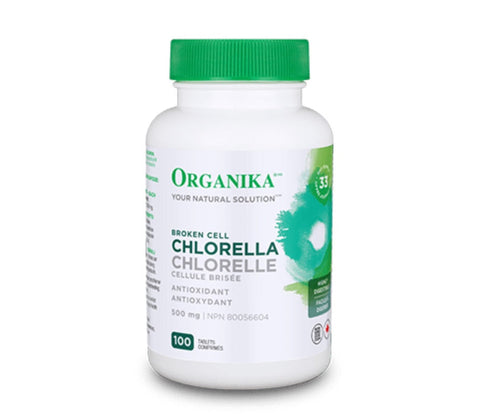 Chlorella - 100tabs - Organika
ORGANIKA CHLORELLA TABLETS
Single-celled, green freshwater algae best known as a highly nutrient-dense superfood.
BENEFITS:
Highly digestible source of Vitamin A (Beta-Carotene) for skin, eye, hair, nail and general support.
Provides a source of antioxidants to reduce oxidative damage to bones, joints, skin and more.
Broken Cell Wall to ensure maximum nutrient density and bioavailability
Sourced from pristine mineral waters in Taiwan, and tested for all heavy metals and algal toxins, Organika's Chlorella undergoes a unique process to break the algae's cell wall. This unlocks Chlorella's nutrient profile, as the cell wall surrounding Chlorella is indigestible, so it needs to be broken in order for you to get the benefits of its nutrients.
As a highly digestible, broken-cell wall—Chlorella is far from its depths in the ocean floor. Providing a great dosage of protein, vitamins and antioxidants, Chlorella is an easy-to-take way to cover all of your nutritional bases. It naturally contains high levels of protein, 18 amino acids, and various vitamins and minerals. Naturally also containing chlorophyll, which is known to rejuvenate and detoxify the body.
RECOMMENDED USE OR PURPOSE: Source of antioxidants.
MEDICINAL INGREDIENT – EACH TABLET CONTAINS:
Chlorella (Chorella vulgaris (Broken Cell)) …………………………………. 500 mg
NON-MEDICINAL INGREDIENTS:
Calcium Phosphate Dibasic Dihydrate, Microcrystalline Cellulose, Croscarmellose Sodium, Stearic Acid, Magnesium Stearate, Silica.
RECOMMENDED DOSE – (ORAL) ADULTS ONLY:
Take 1 tablet 3 times per day with a glass of water. Take a few hours before or after taking other medications or natural health products.
CAUTIONS: Consult a health care practitioner prior to use if you are pregnant or breastfeeding; or if you are taking blood thinners. Hypersensitivity / allergy can occur, in which case discontinue use and consult your health care practitioner.
CONTAINS NO: Dairy, egg, artificial preservatives, colours, artificial sweeteners, yeast, wheat, gluten, soya, or corn.
---
We Also Recommend