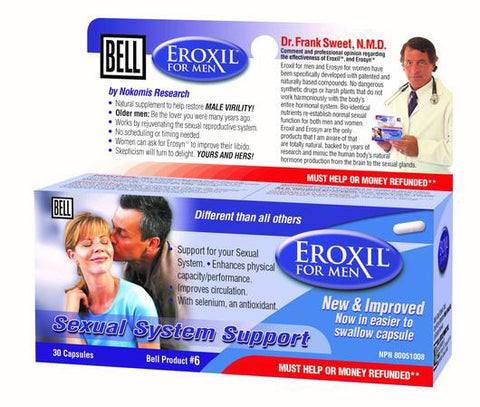 Eroxil For Men - 30vcaps - Bell
BELL Eroxil for Men 30vcaps
New & Improved Eroxil for Sexual Stamina!
Helps promote a healthy libido.*
The formulation includes polyamines for energy, healthy hormone balance, improved stress response and more.*
Helps revitalize the male reproductive system.*
Enhances sexual performance and stamina.*
Enhances physical capacity.*
Helps to support peripheral circulation.*
An antioxidant to help protect cells from free radical damage.

GMO Free and Allergen Free.
Our new & improved Eroxil for men comes in capsules and contains the same amount of polyamines and selenium as in the original formula, but is now reinforced with herbal power as well! Tribulus terrestris extract, panax ginseng extract and ginkgo biloba extract have all been added to vastly improve the original formula.*
Tribulus terrestris is a Mediterranean plant, also known as puncture vine. For many years, people have taken tribulus terrestris to improve athletic performance and sexual issues. It has also been used to support heart health and circulation. Studies performed in Bulgaria indicate that tribulus terrestris helps raise LH (luteinizing hormone) and testosterone levels, which have a positive effect on sexual performance and sports performance. LH regulates testosterone production in the testes. High levels of LH go hand in hand with high testosterone levels.*
Panax ginseng originated in China and Korea and has been used for over 4000 years. Panax ginseng is an adaptogen that balances and stabilizes many of the body's important processes. Many people take panax ginseng as a tonic to help cope with stress, improve general well-being and improve sexual function. Panax ginseng also helps enhance physical performance, promote healthy glucose levels and help reduce mental fatigue.*
Ginkgo biloba has been used in Chinese medicine for thousands of years. Ginkgo improves circulation and also acts as an antioxidant. Improved circulation is necessary for firm erections, but it's also important for mood improvement and overall cognitive function.*
---
We Also Recommend