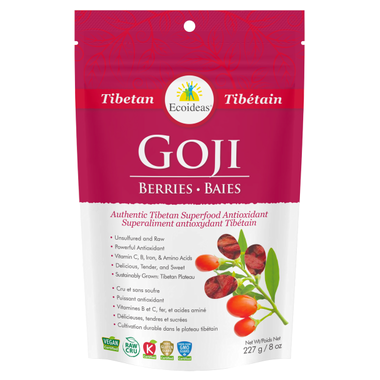 Goji Berries - 227g - Ecoideas
Ecoideas® Authentic Tibetan Goji Berries 454g
Ecoideas Goji Berries are sustainably grown in Tibetan Plateau, which yields a superior variety of goji berry with a softer texture. Goji berries are a potent antioxidant and contain 19 amino acids, 27 trace minerals, vitamin E, B1, B2, B6, and C. Our goji berries are certified to be free of yeast/mold and microbial bacteria. They are also completely raw, and have no added sulphur.
 – Unsulphured and Raw
– Powerful Antioxidant
– Vitamin C, B, Iron and Amino Acids
– Delicious, Tender and Sweet
– Sustainably Grown in the Tibetan Plateau
Suggested Use:
The recommended daily intake of Goji Berries is a small handful (20 to 30g). They can be eaten as a dry or wet snack (after being soaked overnight). Mix them into cereals, yogurt or blend them into smoothies. Also, add to recipes for muffins and breads or add to soup for a unique added flavour.
---
We Also Recommend