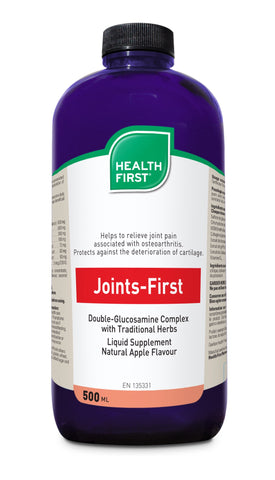 Joints-First - Natural Apple Flavour - 500ml - Health First
Health First Joints-First Double-Glucosamine Complex Natural Apple Flavour 
Recommended use or purpose: Acts as an anti-inflammatory agent, relieves joint pain.
Product Brief: As we age, our joints are susceptible to damage by wear-and-tear and our weakened ability to manufacture our own Glucosamine Sulfate, a major factor in the health of our cartilage. This painful condition where joints rub against one another is known as osteoarthritis and effects the majority of North Americans over the age of 55.
The original Joints-First Capsule formula, which was based on the popular LaKota® formula, carries a warning of caution for those on blood thinners. For the Joints-First Liquid formula, health professionals have reviewed the formula in detail, removing the three ingredients that can potentially interact with blood thinners, replacing them with three ingredients that will not (MSM, Cat's Claw and Vitamin D3). Now you have a safe option for those consumers with joint pain who take blood thinners.
Joints-First liquid is a pleasant tasting formula made with real apple juice for flavouring.
Recommended dose:
Adults: Take 1 tablespoon daily.
Each 15 ml (1 tablespoon) contains:
Glucosamine Sulfate (2-Amino-2-deoxy-beta-D-glucopyranose) 600 mg
Glucosamine HCL (2-Amino-2-deoxyglucose hydrochloride) 600 mg
MSM (methylsulfonylmethane) 240 mg
Boswellia Extract (Boswellia serrata) 240 mg
Collagen – Type II (bovine) 180 mg
Yucca Root Powder (Yucca schidigera) 60 mg
Cat's Claw (Uncaria tomentosa) 60 mg
Sarsaparilla (Smilax officinalis) 60 mg
Bromelain (from pineapple) 60 mg
Vitamin D3 5 mcg/200 IU
Non-medicinal ingredients:
Purified water, apple juice concentrate, stevia, natural flavours, sodium benzoate.
Risk information:
Do not use if pregnant or breastfeeding Keep out of the reach of children. Store in a cool dry place. Refrigerate after opening. Do not use if inner seal is broken. Free from artificial colours and flavours, corn, gluten, wheat, lactose, soy, added sugar and yeast.
---
We Also Recommend