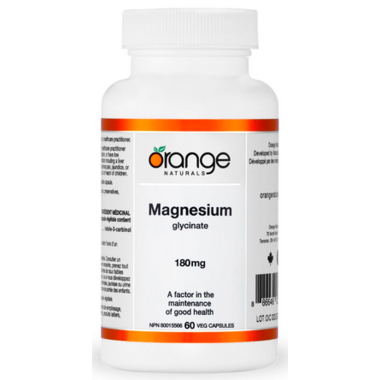 Magnesium Glycinate 180mg - 60vcaps - Orange Naturals
Magnesium Glycinate 180mg 
Magnesium is a multi-purpose mineral that helps the body to make effective use of carbs, proteins and fats.  It also helps in the maintenance of bones and teeth and in the formation of bodily tissues.  Sixty percent of the body's magnesium is found in our bones and the remainder resides in our major organs and tissues.  Magnesium is vital for maintaing proper muscle function.

It is important to consider this critical fact when thinking about the heart - one of our most important muscles!  When magnesium is delivered to the body in the glycinate form as it is in this formula it is less likely to cause a loose stool or diarrhea.  Magnesium bis-glycinate is easy and gentle on the bowels.

Recommended Use: A factor in the maintenance of good health.

Directions: Adults 18 and over - take one (1) capsule daily or as directed by a healthcare practitioner.

Ingredients: Magnesium (magnesium bisglycinate)    180mg

Non-Medicinal Ingredients: Vegetable-grade magnesium stearate, vegetable capsule.
---
We Also Recommend