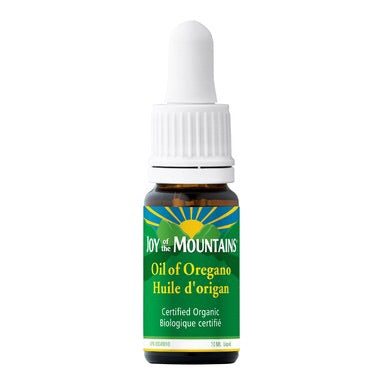 Oil Of Oregano - 10ml - Joy Of The Mountains
Joy of the Mountains Oil of Oregano
Joy of the Mountains Oil of Oregano has many uses and benefits, most commonly used to treat colds and flus.  Joy of the Mountains Oil of Oregano is made from 100% certified organic ingredients and can be ingested and used topically.

Oil of Oregano can also be used a an antiviral, antibacterial, antiparasitic, anti-fungal, antioxidant, anti-inflammatory. 

Features & Benefits:
100% Certified Organic Ingredients
Wild, Handpicked, Certified Organic Oregano from the Mediterranean
Rare high-potency species called Origanum Minutiflorum
Oregano essential oil contains 75-85% Carvacrol (naturally occurring)
Meticulous quality assurances and rigorous batch testing
Voted #1 Immune Product, Alive Awards Canada
Dosage: Take 5 drops, 6x daily.

Ingredients: Organic Oregano essential oil, Organic Olive oil - Blended 1:3 or 25:75 (25% Oregano essential oil)

Caution: Not to be used by pregnant or nursing mothers, and children under the age of 4. Do not use if you have hypersensitivity or are allergic to Lamiaceae herbs (Basil, Lavender, Mint, Rosemary, Sage, Thyme). Discontinue use if you experience heartburn or gastrointestinal upset. Consult a healthcare practcitioner for prolonged use.
---
We Also Recommend