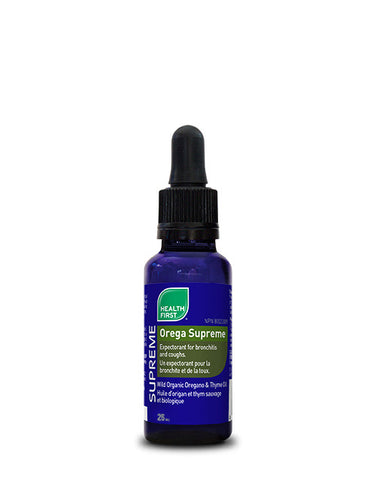 Orega Supreme - 25ml - Health First
Health First Orega-Supreme Oil
Recommended Use: Traditionally used in Herbal Medicine as an expectorant to help relieve the symptoms of bronchitis and catarrhs of the upper respiratory tract (anti-catarrh). Traditionally used in Herbal Medicine to help relieve coughs (spasmolytic). 
Product Brief:
· Pure & Tested: Orega-Supreme is free from additives and chemicals
· Rich in Carvacrol: Contains oregano oil (80% carvacrol) and thyme oil (63% carvacrol)
· Low in Thymol: Both the oregano and thyme oil used in Orega-Supreme are tested to contain
less than 2% thymol, making it safe for oral use.
· Pure Source: Orega-Supreme is made with the best wild oregano and thyme grown and
hand-harvested from the mountains of the eastern Mediterranean.
· Organic: All three ingredients in Orega-Supreme – oregano, thyme and the extra virgin olive oil
carrier – are all certified organic by ECOCERT®.
Medicinal Ingredients:
Each drop contains:
Mediterranean Oregano* aerial parts oil
(Origanum vulgare) 20% w/w (6.0 mg per drop)
Providing 80% Carvacrol
Thyme* (Thymus vulgaris) leaf and flowering top
13% w/w (3.9 mg/drop of a 55:1 extract)
(214.5 mg crude thyme)
Providing 63% Carvacrol
Non-Medicinal Ingredients: Extra virgin olive oil*.
*ECOCERT® certified organic.
Recommended Dosage:
Oral: Adults: Take 5 drops 3-5 times/day. As preventative, take 5 drops once daily. To avoid a burning sensation, place drop(s) under the tongue and immediately follow with a beverage. Consult a healthcare practitioner if symptoms persist or worsen.
Risk Information: Consult a health care practitioner if symptoms persist or worsen or for continuous use beyond six weeks. Do not use if you are pregnant or breastfeeding. Discontinue use if hypersensitivity occurs, or if heartburn develops.
Storage: Store in a cool dry place. Keep out of the reach of children.
Free from artificial flavours, artificial colours, corn, gluten, wheat, lactose, artificial preservatives, added sugar and yeast.
---
We Also Recommend