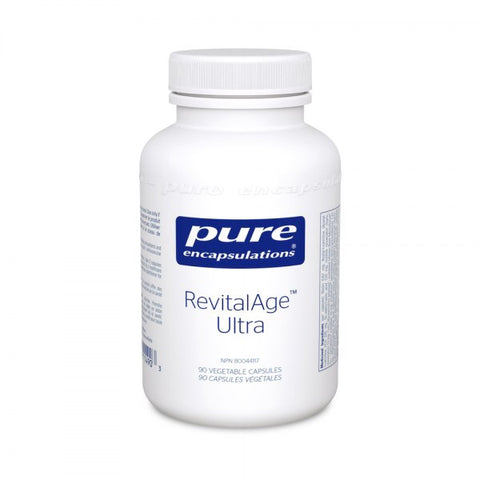 RevitalAge Ultra - 90vcaps - Pure Encapsulations
Pure Encapsulations RevitalAge Ultra
Supports cardiovascular health
Provides a combination of clinically researched ingredients
RevitalAge™ Ultra contains a scientifically researched combination of acetyll- carnitine (ALC), alpha lipoic acid (ALA) and biotin, offered with a unique blend of MicroActive®sustained-release CoQ10, resVida® resveratrol and pTeroPure™ pterostilbene. This formula supports cardiovascular health by maintaining mitochondrial function, promoting cellular energy production and providing antioxidant protection. Over a decade of research has confirmed the importance of maintaining healthy mitochondrial function as individuals age. Sustained-release CoQ10 provides 24-hour cardiovascular support by enhancing energy levels, promoting cellular and tissue health, supporting healthy blood flow, and maintaining heart muscle function. Clinical research shows this form of CoQ10 results in 300% greater peak plasma concentrations than standard CoQ10. resVida® is pure, clinically researched resveratrol with demonstrated bioavailability. This potent antioxidant protects mitochondria from free radicals that contribute to cellular aging. pTeroPure™ is pure, clinically researched pterostilbene, the methylated analog of resveratrol.
Recommended Use: Helps to maintain and support cardiovascular health. Provides antioxi- dants for the maintenance of good health. Recommended Dose: Adults: Take 3 capsules once daily with food or as directed by a healthcare practitioner. Consult a healthcare practitioner for use beyond 9 weeks.
Medicinal Ingredients (per capsule): Biotin†† 0.67 mg, Acetyl-l-carnitine (N-acetyl L-carnitine hydrochloride)†† 280 mg, DL-alpha-Lipoic acid†† 133 mg, resVida® Resveratrol (trans-resveratrol) 10 mg, Coenzyme Q10 (from MicroActive® Q10 - cyclodextrin complex (bacterial fermentation) 10 mg, pTeroPureTM pterostilbene (trans-pterostilbene) 1.67 mg.
Non Medicinal Ingredients: Fruit and vegetable (cranberry, wild blueberry, strawberry and spinach) blend, Potato starch, Maltodextrin, Hydroxypropyl methylcellulose, Purified water.
---
We Also Recommend