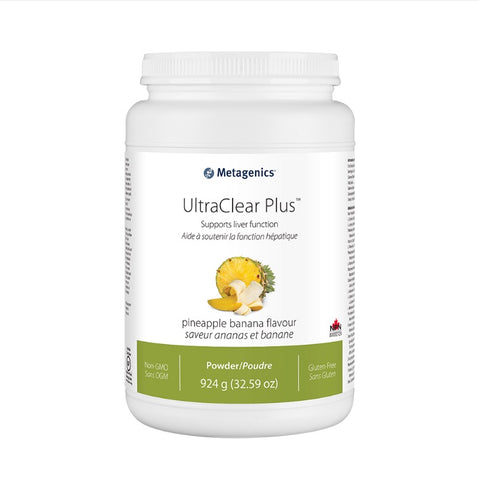 UltraClear Plus - Pineapple Banana 924g - Metagenics
Metagenics UltraClear Plus
Supports liver function.
Non-Medicinal Ingredients: Rice syrup solids, natural pineapple flavour, olive oil, medium-chain triglycerides, natural banana flavour, natural flavour, natural vanilla flavour, silicon dioxide, rosemary extract, and maltodextrin.
Recommended Use: Source of antioxidants for the maintenance of good health.
Directions: Adults blend, shake, or briskly stir 2 level scoops (44 grams) of UltraClear Plus™ with 237 mL (8 fl. oz.) of chilled water or juice daily or as directed by your healthcare practitioner. Take a few hours before or after taking other medications.
Caution: Do not use following vigorous exercise or acute dehydration. Do not use with other potassium-containing supplements or with potassium-containing salt-substitutes. May cause nausea, vomiting, diarrhea and/or abdominal cramps. Discontinue use and consult a healthcare practitioner if these symptoms are severe. If pregnant or breastfeeding consult your healthcare practitioner before use. Use for up to 6 months or as directed by your healthcare practitioner.
This product is non-GMO and gluten-free.
Contents sold by weight, not volume. Some settling may occur during shipping and handling. Shake container well before each use. Do not use if safety seal is missing or broken.
| | | |
| --- | --- | --- |
| Information per Serving: | |   |
| One Serving (2 level scoops) | | 44 g  |
| Servings per Container | | 21  |
| Calories | | 160  |
| Fat | | 3 g  |
| Sodium | | 70 mg  |
| Carbohydrate | | 19 g  |
| Dietary Fibre | | 2 g  |
| Medicinal Ingredients: | |   |
| Rice Protein | | 12 g  |
| L-Glycine | | 1600 mg  |
| L-Lysine (L-lysine HCl) | | 505 mg  |
| Potassium (dipotassium phosphate, potassium iodide) | | 420 mg  |
| Vitamin C (ascorbic acid) | | 300 mg  |
| L-Threonine | | 285 mg  |
| Phosphorus (dicalcium phosphate, dipotassium phosphate) | | 250 mg  |
| L-Alanine | | 235 mg  |
| Magnesium (magnesium citrate, magnesium sulfate) | | 200 mg  |
| Calcium (dicalcium phosphate, calcium citrate) | | 200 mg  |
| DL-Methionine | | 170 mg  |
| L-Glutamine | | 100 mg  |
| L-Cysteine (L-cysteine HCl) | | 85 mg  |
| Pantothenic Acid (calcium d-pantothenate) | | 36 mg  |
| Vitamin E (d-alpha tocopheryl acetate) | | 28 mg  |
| Green Tea (Camellia sinensis) (leaf extract) [providing 60% catechins, 40% epigallocatechin gallate (EGCG)] | | 25 mg  |
| Zinc (zinc gluconate) | | 10 mg  |
| Niacinamide | | 7 mg  |
| Vitamin B6 (pyridoxine HCl) | | 3.4 mg  |
| Beta-Carotene | | 2400 mcg  |
| Thiamin (thiamin HCl) | | 2 mg  |
| Riboflavin | | 2 mg  |
| Copper (copper gluconate) | | 1 mg  |
| Vitamin A (retinyl palmitate) | | 300 mcg  |
| Biotin | | 135 mcg  |
| Folate (calcium L-5-methyltetrahydrofolate)† | | 80 mcg  |
| Iodine (potassium iodide) | | 53 mcg  |
| Chromium (chromium picolinate) | | 50 mcg  |
| Vitamin B12 (methylcobalamin) | | 3.6 mcg  |
| Vitamin D (cholecalciferol) | | 0.88 mcg |
---
We Also Recommend