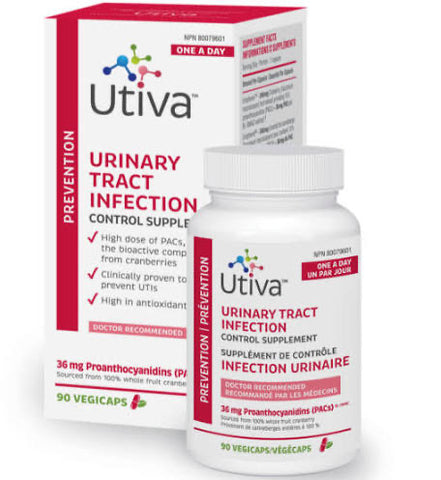 UTI Control - 90caps - Utiva Health
Utiva Health UTI Control
Prevent UTIs naturally. Just one capsule a day for better health.
 Stop UTIs before they start
Extracted from deep within cranberries, doctors recommend 36mg PACs to prevent recurring UTIs and reduce antibiotic issues.
The American Urological Association upgraded its guidelines to include cranberries as a non-antibiotic option with a special mention that PACs (Proanthocyanidins) are the bioactive molecule of the cranberry.
Utiva is the only available cranberry supplement with 36mg of PACs in Canada.
Clinically proven to work, Canadian-made Utiva UTI Control Supplements are medical grade, natural, safe, and antibiotic-free.
Extracted with precision through Utiva's proprietary process, Utiva capsules contain the highest active concentrated ingredient available, which are barely present in other cranberry supplements.
Take back control
Each one-a-day capsule is packed full of 36mg of bioactive PACs at concentrated strength - the exact dosage proven to fight off UTI-causing bacteria, and flush it out of your system.
Also promotes gut and heart health
Reclaim Your Life - Live UTI Free
---
We Also Recommend